Condition your Hantler Harness once in a while
if you want to keep your harness in optimal condition, we recommend conditioning your harness with a good leather cream once in a while. It extends the life of your harness and keeps the leather flexible. The straps will remain comfortable and pleasant to wear and will age better over time. In addition, a 'well-groomed' harness gives that extra care to your overall appearance.
Make use of your canvas bag
We provide every sold harness with a lovely canvas bag to keep it protected while it's stored. This bag makes sure the leather can breathe and stays in its best possible quality.

When your harness has become wet due to rain. hang it out to dry. It should be aired out for one or two days so the moisture can dry completely. When you hang your harness drying above a heater it will do huge damage to the leather.
All our harnesses and straps are already treated with a special sealant to make them more resistant to environmental influences. Nevertheless, wearing it, especially in wet weather, causes the material to dry out over time. The leather loses its oiliness and with it its suppleness and shine (as with all leather products). This is where leather cream comes in handy.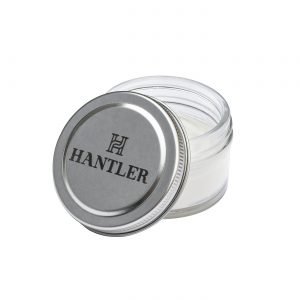 Step by step guide for conditioning your camera harness
Here we show you step – by – step on how we do it:
#1 pre-cleaning
Make sure there is no dirt on the harness. Remove any mud and sand with a dry cloth.
#2 Apply leather cream
We always use leather cream ourselves because it has a more fluid consistency and is therefore easier and faster to apply. But any hard wax paste can do the job. It just needs to be polished a bit more compared to the cream. Make sure to pick a transparent or a color the same as your camera harness to prevent color changes.  
Apply the cream thinly and evenly with a cloth. Once the material has been smeared, you should immediately start polishing, because dried cream is very difficult to polish off again.
#3 Polish 
When Polishing with a microfiber cloth, the leather cream is rubbed into the pores of the leather, and at the same time, excess cream is removed. Strong pressure may be applied. Don't forget to polish the sides of the straps as well.
It is not necessary to use a brush.