Welcome to our new blog series: Zoom in with!
Introducing "Zoom In With" – a brand new blog series where we sit down with photographers from all over the world and delve into their world of photography. Each month, we'll be chatting with a different photographer about their craft, exploring their unique style, techniques and equipment choices.
In addition, we'll be showcasing our range of premium leather camera harnesses and products, and asking our featured photographers how they integrate them into their workflow. We believe that a great camera harness is an essential tool for any photographer, and we want to show how our products can enhance the shooting experience for professionals and amateurs alike.
Our goal is to inspire and connect with the wider photography community, and to share our passion for this incredible art form. Join us on this journey as we explore the world through the lens of some of the most talented photographers out there.
Starting of with wildlife photographer Kimberly!
01. Can you tell us a bit about yourself and what you photograph?

My name is Kimberly van den Boogaard, 28 years old and for several years now, I've been active as a professional animal/wildlife photographer. Besides my current photography assignments, I'm often found in nature, so my camera is always with me as soon as I put on my hiking boots.
01. What makes your niche of photography so special?
I have always been fascinated by nature and behavior, 'why does an animal do what it does?'. Being in nature and being able to witness these unique moments is very special and remarkable for me to see. The part that comes with it for me is that I get to capture these moments. I will never forget that a few years ago, I didn't necessarily feel anything for birds, but since I started photographing them, I have really fallen in love with these creatures. The details that you can capture in a photo, they give me goosebumps every time.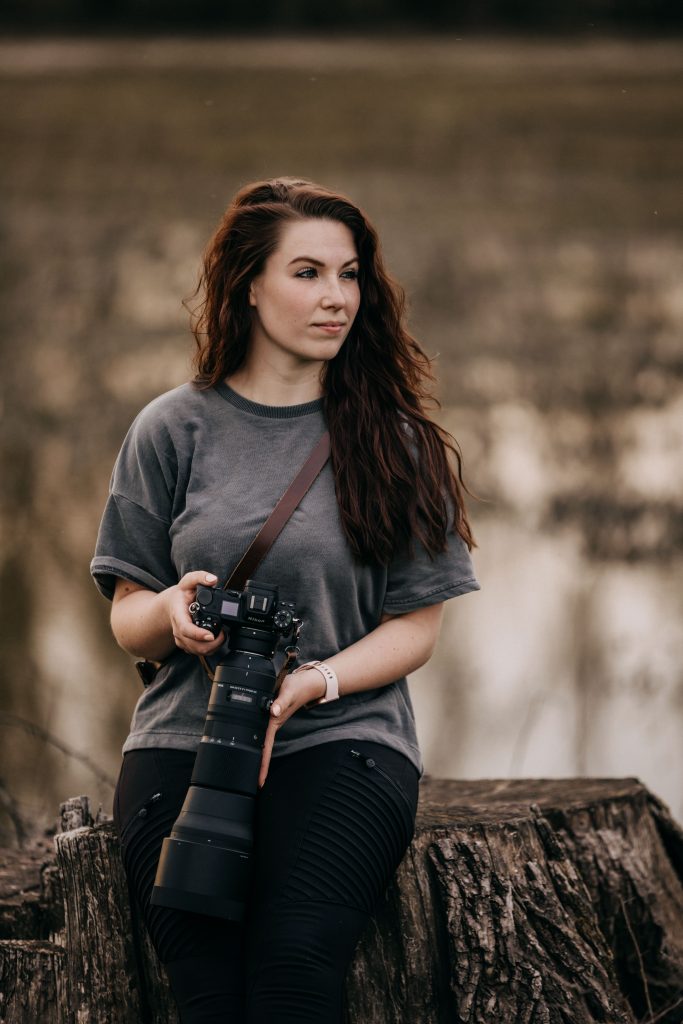 03. How and where do you share your photos with others and why do you think it's important to do so?
Mainly on my Facebook page and Instagram. I enjoy showing the world what's happening in places where people don't always go in their daily lives, and what kind of animals there are, because the animal world is so beautiful! But it's also about raising awareness of the world, taking care of nature, and living more consciously.
04. How do you prepare before you go out and how do you know where to go to come back home with some great shots of that one special animal?
Beforehand, I always think about what I want to photograph, what kind of animal and what kind of shot I want to take. So I do a lot of research on the computer but also have conversations with fellow photographers, forest rangers, read books and also discover new places/animals through social media. There are plenty of great photo huts where you can go for a day of photography!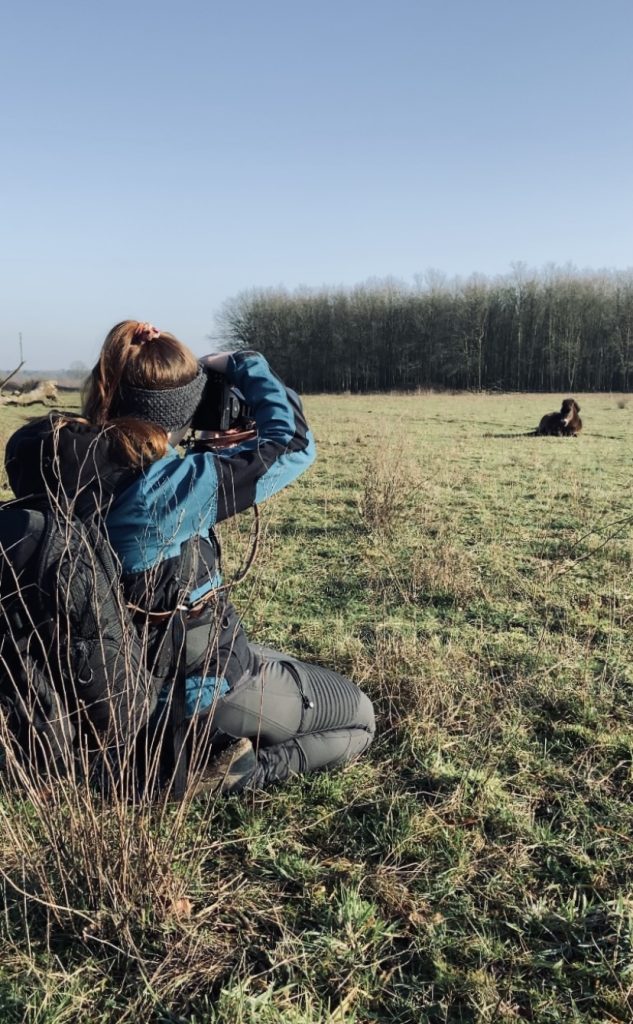 05. What do you do to develop yourself as a photographer?
I hold myself to high standards and believe that "good" is not good enough. Even though some of my photos are still good, I am always striving for that extra something. I make it a point to try and create something better than my previous work. However, this approach can be challenging at times, and there are periods where I don't use my camera for an extended period to gather new ideas before I start working on them again. This is my unique way of continually developing my skills. During post-processing, I occasionally experiment to see if there are any new techniques or styles that I can apply in my work. I also read many blogs, watch videos, and learn from my colleagues to further refine my skills.
06. How do you deal with challenging lighting conditions?
I make the best of it! I mainly adjust my camera settings and switch between lenses. However, I must say that I keep an eye on the weather forecast if I want to plan something. Sometimes, the challenge of dealing with difficult lighting conditions is an opportunity to push yourself to create a different kind of photo. Sometimes, I find bright sun rays beautiful in a particular setting, and sometimes, rain can create a fantastic effect too! Being able to adapt to these situations is crucial, and usually, you can anticipate what to expect beforehand. If you have a plan, you can choose the best time of the day accordingly, but it also depends on when the animals are most active. So, it's always a challenge!
07. Which photo/photoshoot do you remember the most and why?
Definitely the kingfishers. I had never seen a kingfisher before, and when I saw them, I was bouncing up and down in my seat with excitement. I thought to myself, 'If I can get a photo of them just sitting on a branch, I'll be happy.' But on that day, I was also able to take some diving photos of the kingfisher, with and without a fish. It was so special, in one word: ENJOYMENT!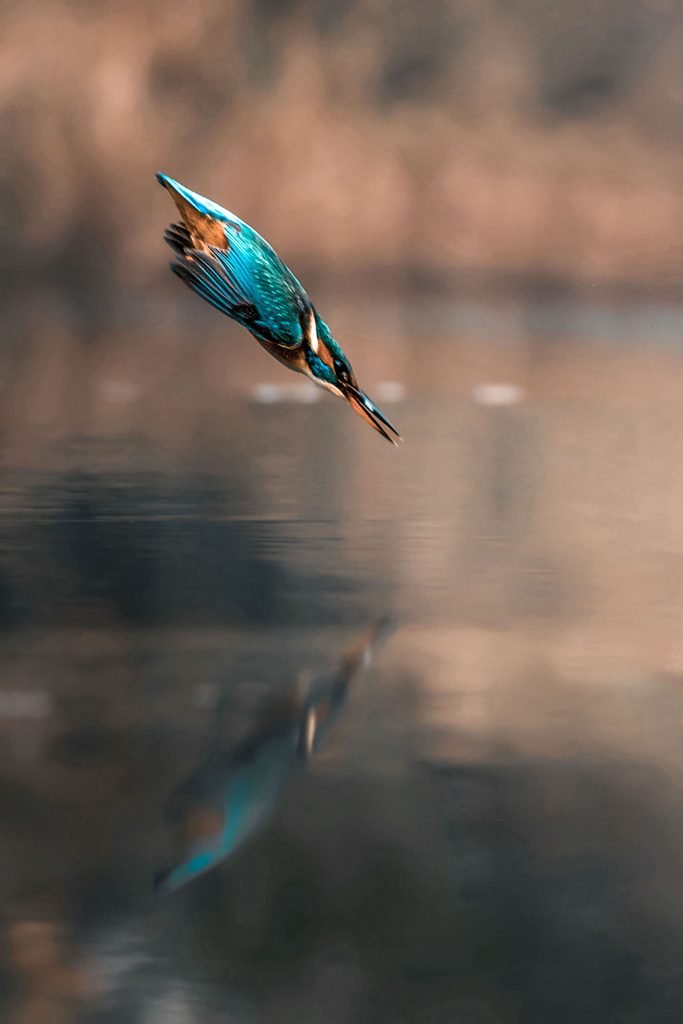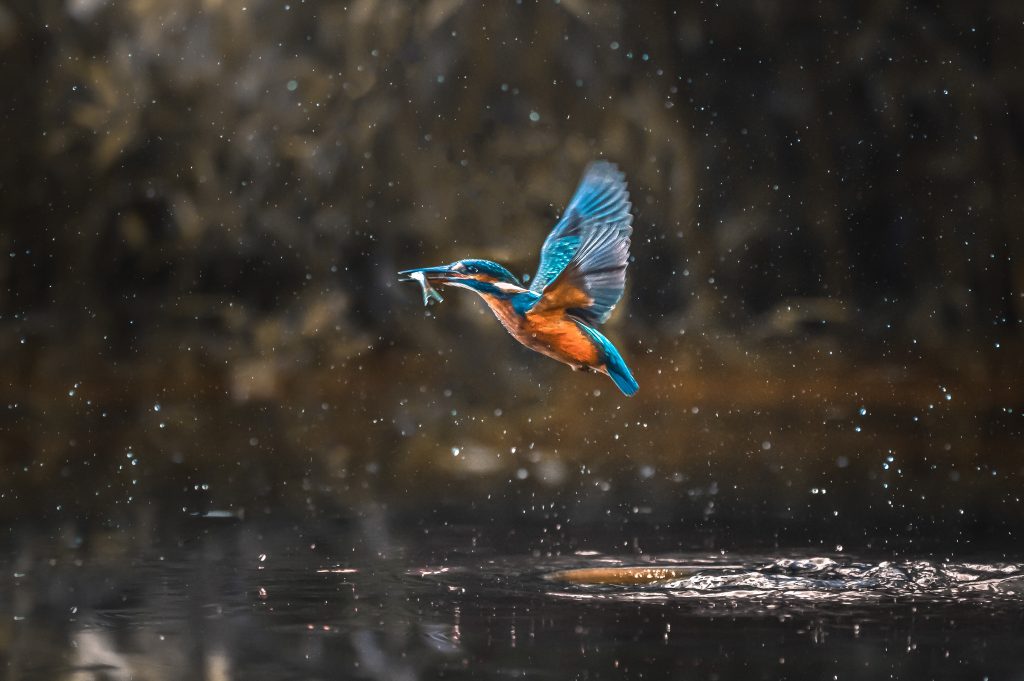 08. What's in your camera bag?
Nikon Z6II, FTZ adapter, Sigma 150-600mm, Sigma 105mm, Nikon Z 50mm, Go Pro Hero 9, Caruba Macro rings, large and small tripods, A personalised Hantler shoulder strap and some small items such as lens cleaning cloths/spray, extra batteries, and a power bank.
09. Which Hantler product do you have and how do you use it? How does using it make your work easier?
I use the Shoulder Sling from The Hantler, and I can't imagine being without it now. Previously, I would always walk around with my camera in my hand, which would cause fatigue. Being able to hang the camera on a sling provides rest for your arms and makes you more agile. Initially, I was worried that I would experience neck/shoulder pain because the weight is on one side, but I've never had any issues. The sling is attached to both the camera body and the lens, which evenly distributes the weight. I have my hands free when needed and can quickly grab the camera when the perfect shot presents itself.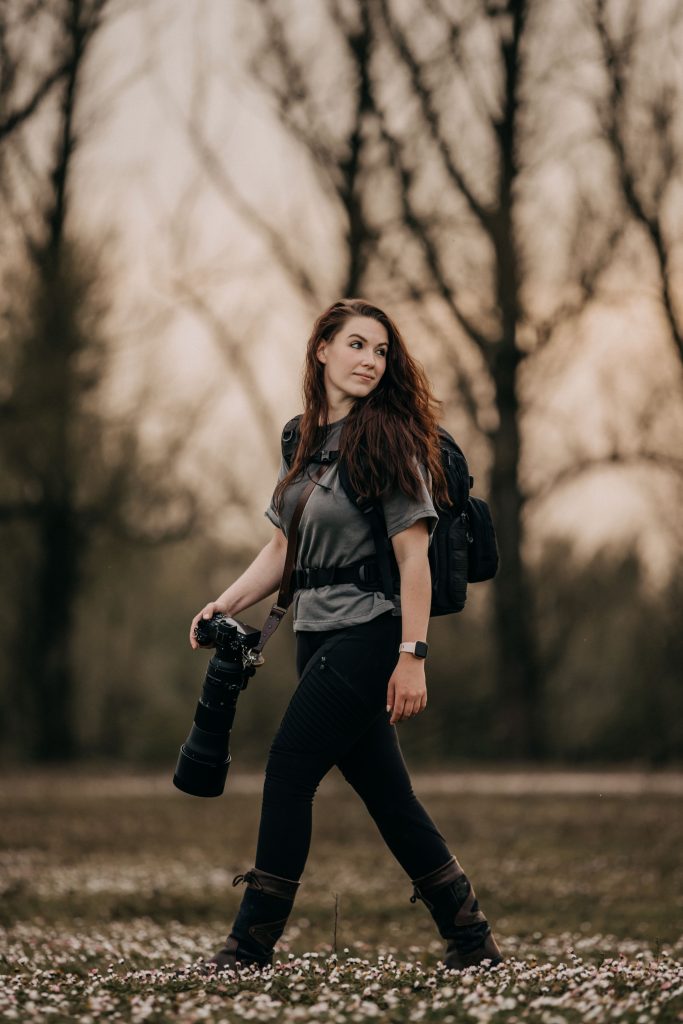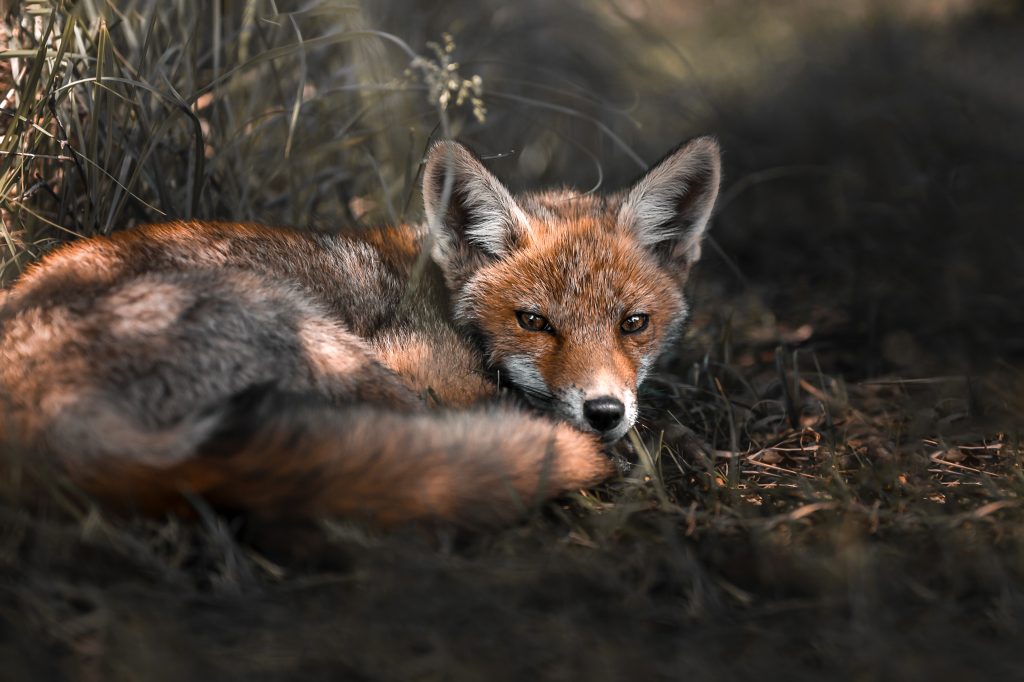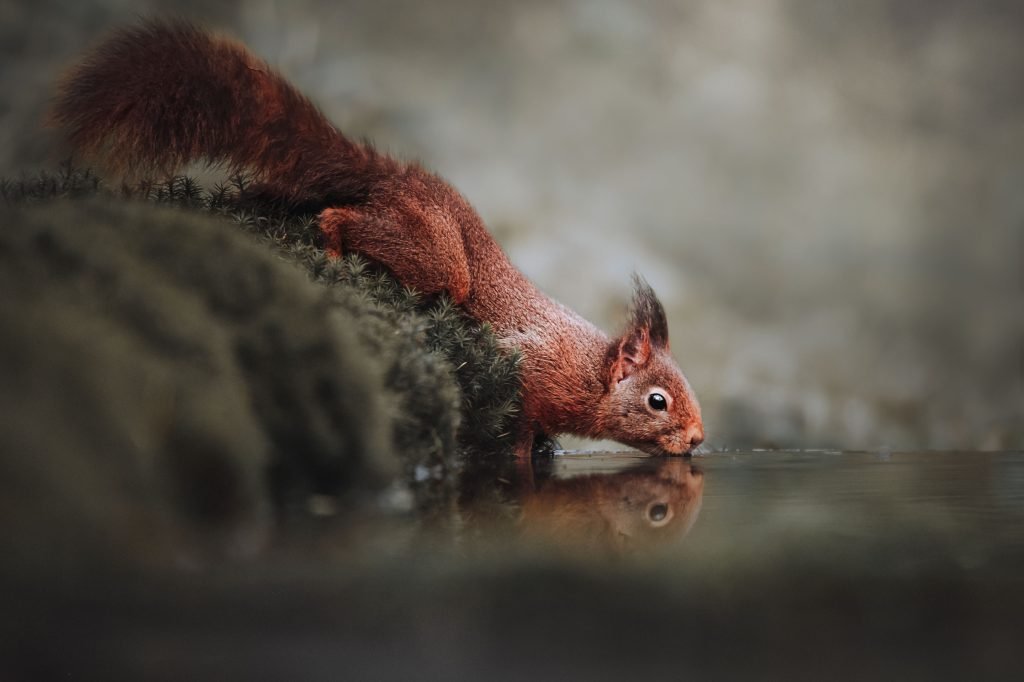 10. Have you ever made a photography purchase that turned out to be a mistake? Is there anything among your gadgets that you would have rather not bought or never used?
Yes, a cable with a remote control to operate my camera from a distance. I have never used it, as I connect my camera with my phone when necessary. But other than that, not really. I always think carefully before purchasing something new, considering what I want to do with it and whether it will truly add value to my ideas.
11. Which animal or subject is still on your photography bucket list?
The Northern Puffin, Hummingbird, and Bee-eater are currently at the top of my list. However, I also really want to capture the Big Five, but that will have to wait for now. What almost nobody knows about me is that I'm a huge fan of whales, so I continue to dream and come up with ideas. Who knows, maybe in the future I'll be able to take underwater shots…