Welcome to our blog series: Zoom in with!
"Zoom In With" is a blog series where we sit down with photographers from all over the world and delve into their world of photography. Each few weeks, we'll be chatting with a different photographer about their craft, exploring their unique style, techniques and equipment choices.
Our goal is to inspire and connect with the wider photography community, and to share our passion for this incredible art form. Join us on this journey as we explore the world through the lens of some of the most talented photographers out there.
This week it's Kyle van Bavel his turn!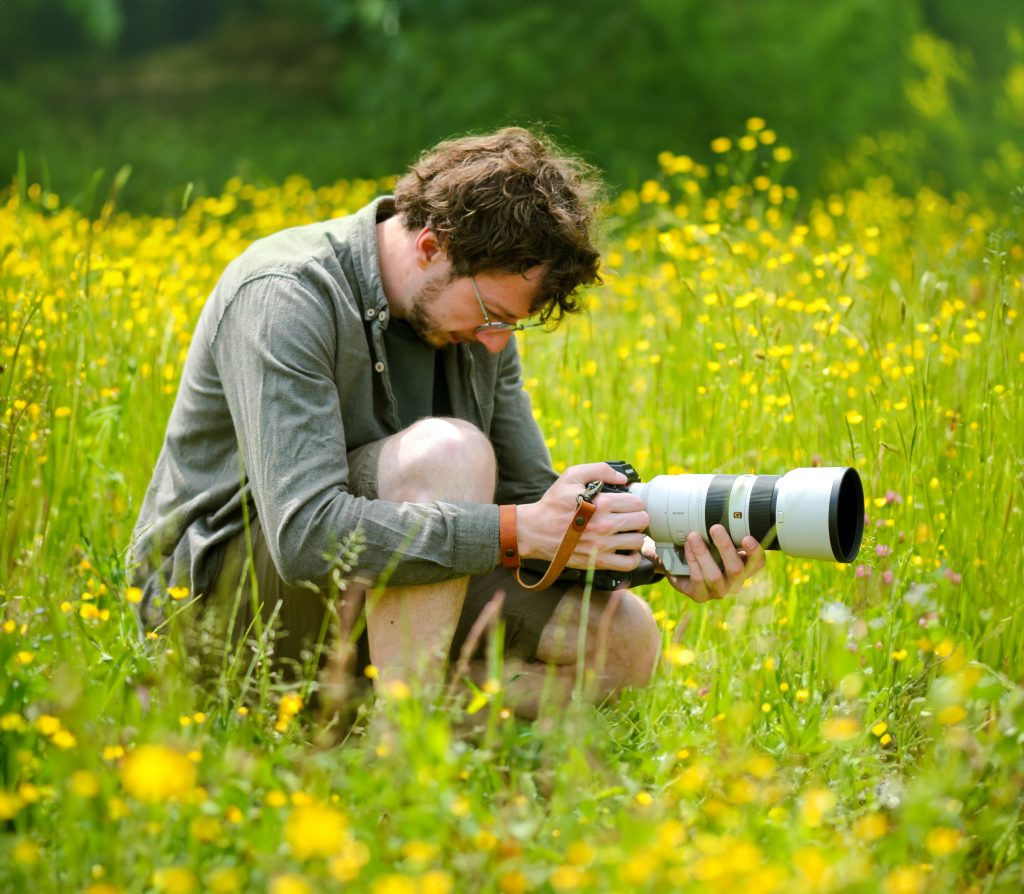 01. Who is Kyle and what do you mainly photograph?

I am Kyle van Bavel, 31 years old, and living in Wijchen. My great passion is Macro photography. I love capturing the small details of the nature around us. My focus is mainly on photographing flowers and insects.
02. What is the biggest challenge in macro photography?
I think the biggest challenge is finding the right composition. You have to pay attention to everything, such as light, color, background, and the angle of the flower. What I always say is to literally dance around the flower to get the right shot.
Also, the weather can play a significant role in macro photography. For example, strong winds are a no-go when photographing flowers, for instance.
03. Can you describe your style and what sets you apart from other photographers?
I often hear that my photos are very dreamy and, at the same time, calming. They are also very colorful, especially because I capture flowers.
04. What makes a photo successful for you?
A photo is successful for me when the subject stands out and is placed peacefully within the frame. And, of course, when it's nice and sharp!
05. Do you stay close to home to capture your images, or do you travel far and wide?
With macro photography, it's an advantage that you don't have to go far and wide. I often photograph in my own garden, or I take a walk around my neighborhood. Nature is everywhere! And because I get up close, the surroundings don't stand out at all.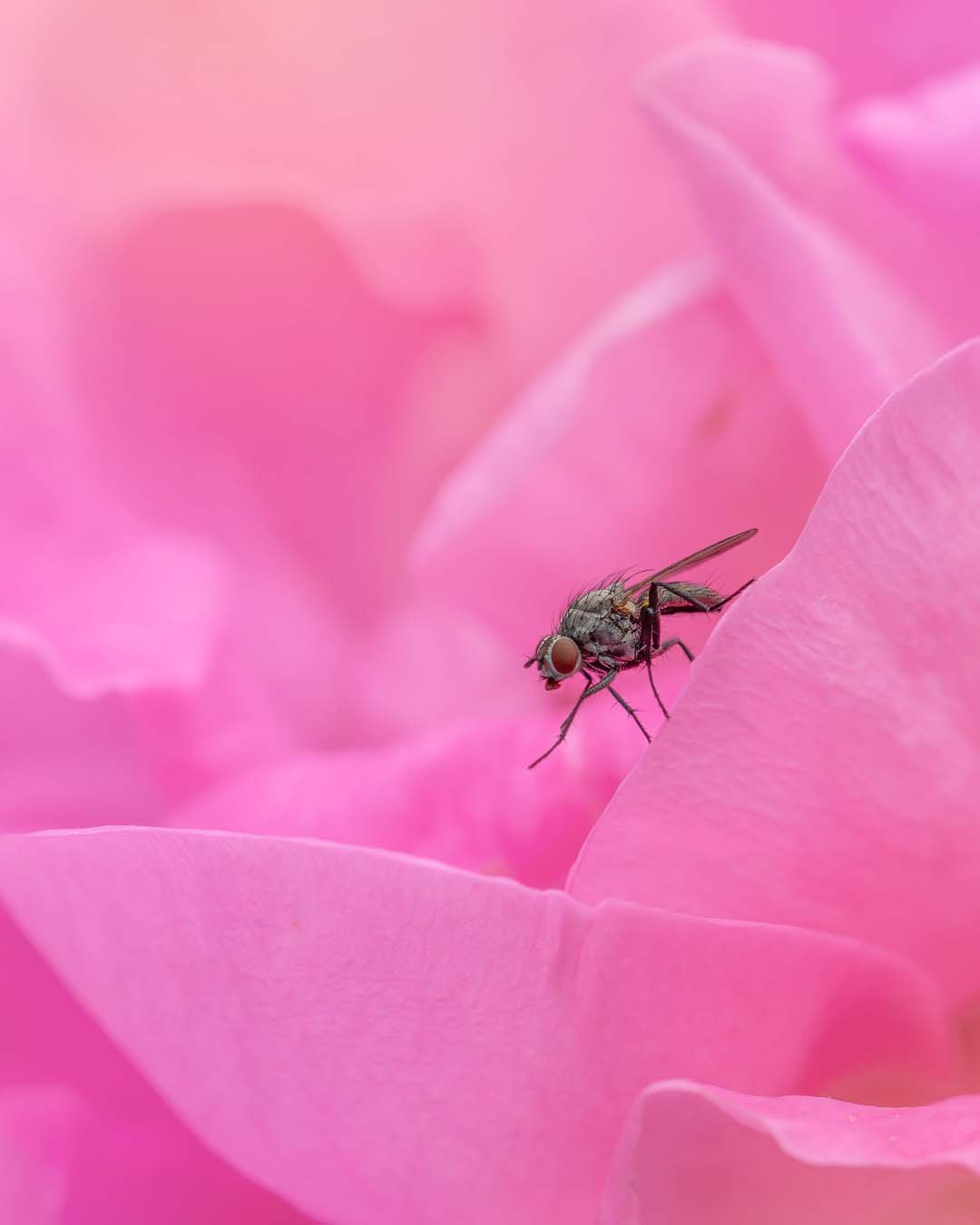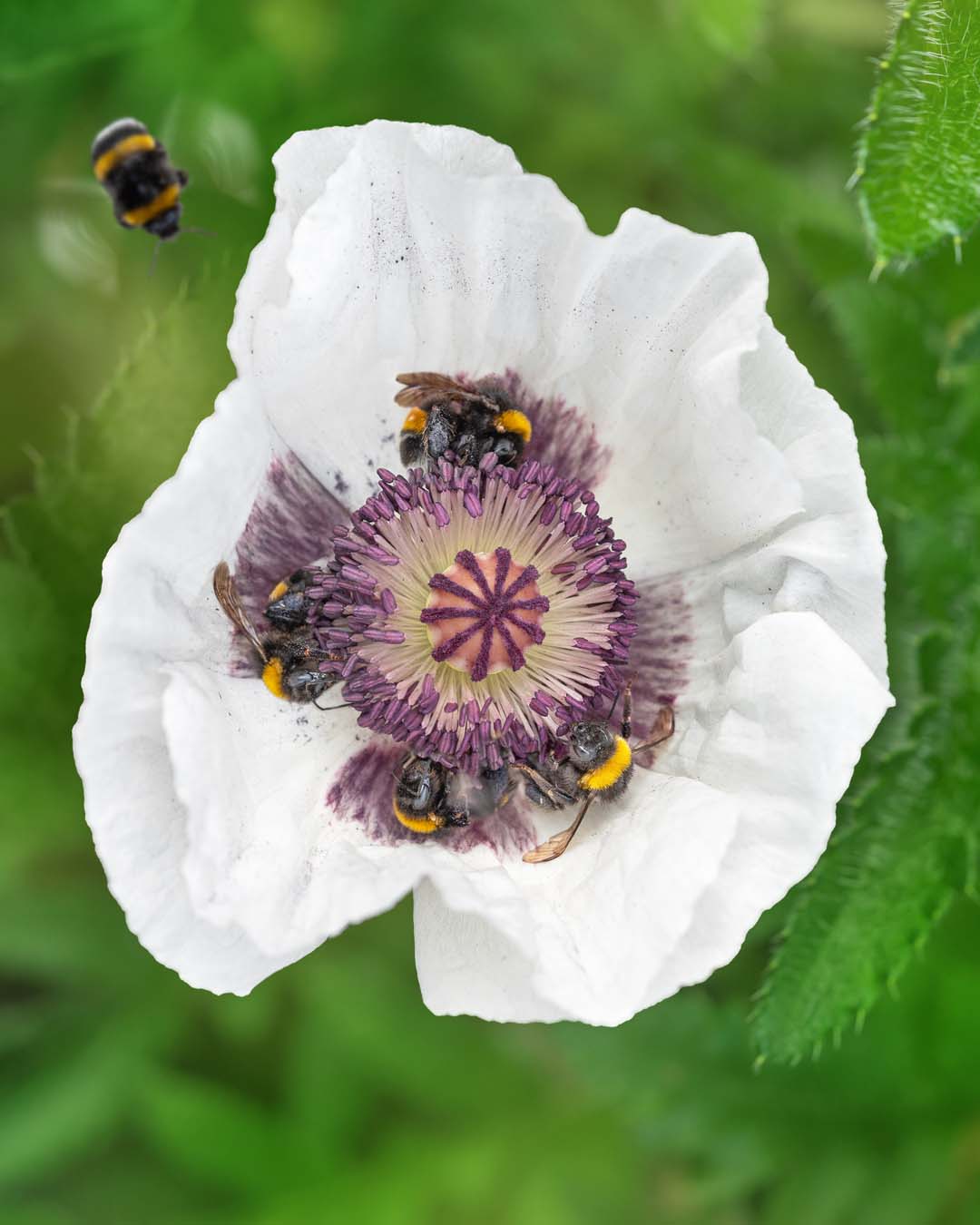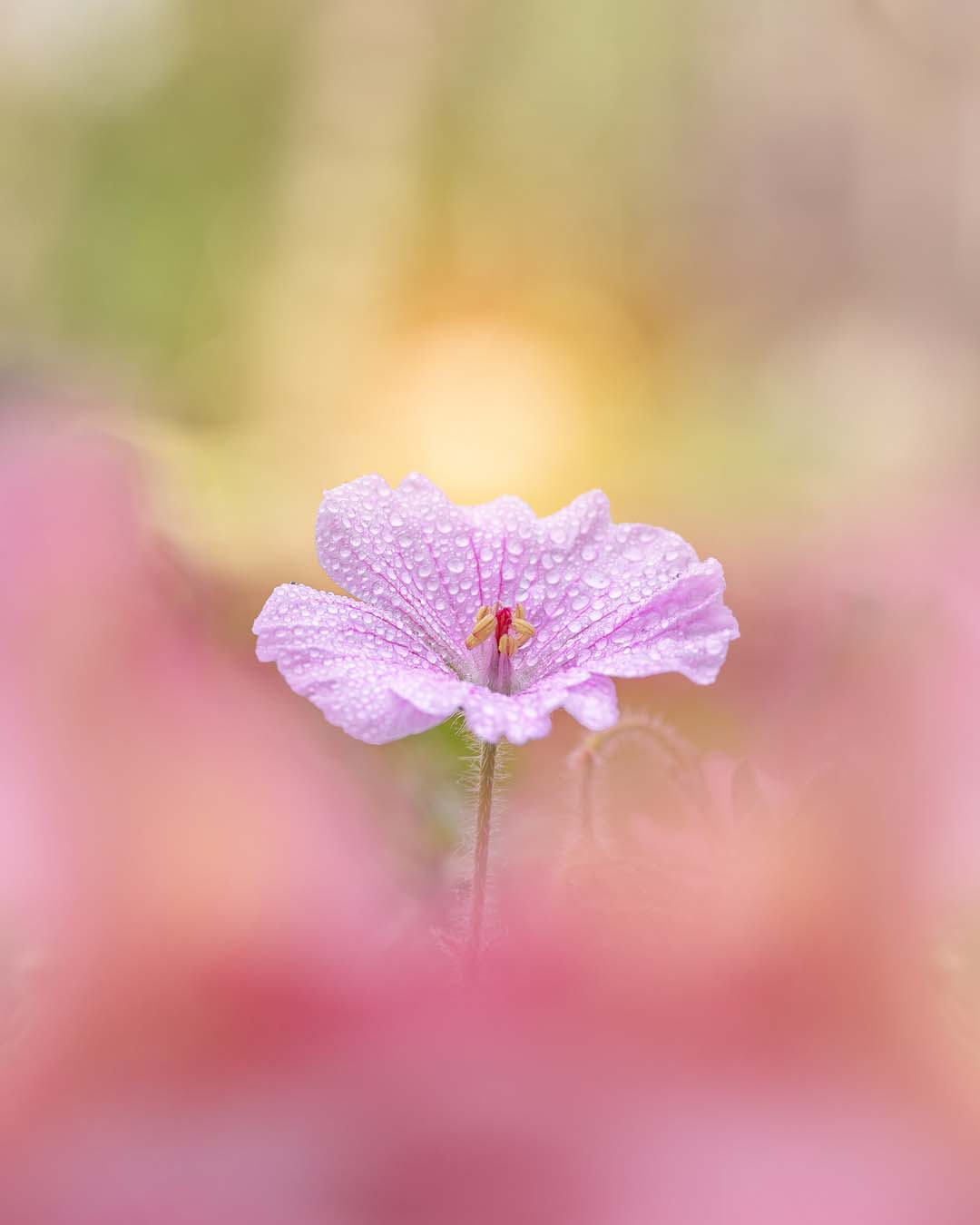 06. How do you adapt to the seasons and weather conditions in your field of photography?
Every season has something beautiful to photograph in Macro. Mushrooms, beautifully colored leaves, gorgeous colorful flowers, frozen ice bubbles, and more.
Weather often plays a significant role, especially when it comes to wind. Being so close to the subject, even a slight movement can be quite challenging! During rain showers, I prefer to stay indoors. However, it becomes interesting when the rain stops, and I can search for beautiful water drops on a flower.
On very sunny days, I personally don't find it ideal for photography because the intense sunlight can make the flower lose its impact, and the colors may not match as well.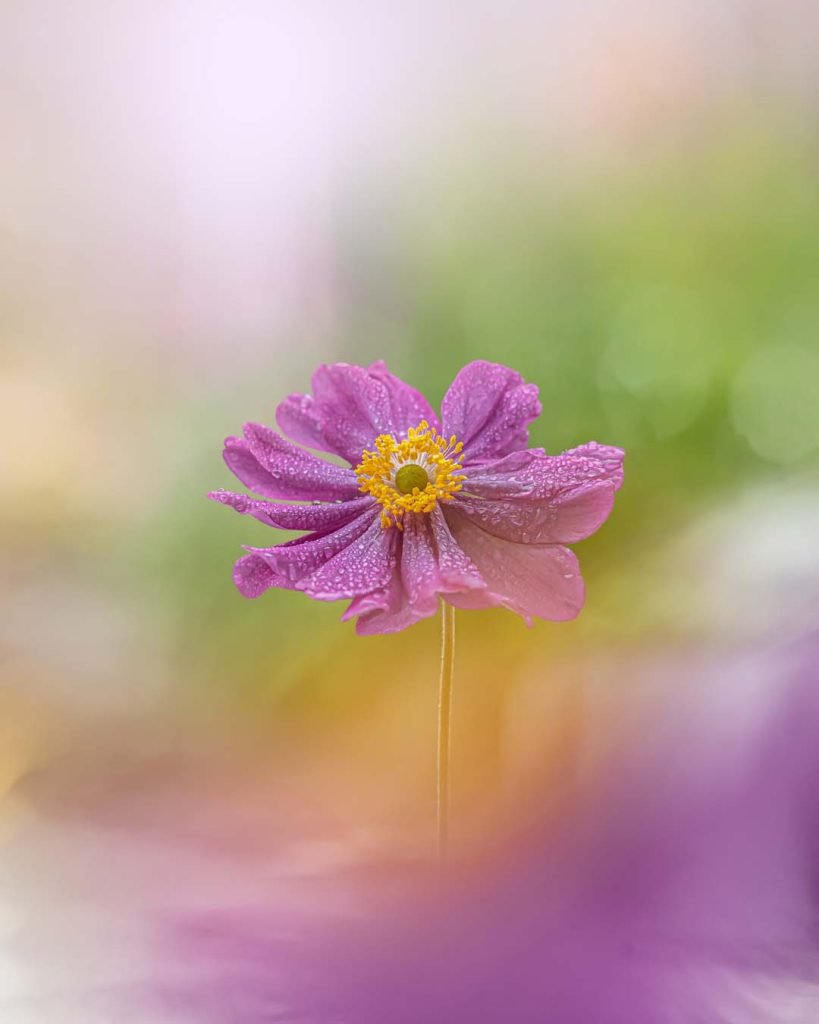 07. Which of your images makes you the most proud?
I believe that this photo on the left has turned out to be a beautiful composition. The colors blend seamlessly, and the droplets on the flower add a nice texture to it. It's also interesting to note that this photo was simply taken in my own garden.
08. What lenses/gadgets are indispensable in your camera bag?
I use the Sony 90mm Macro lens and the Sony 70-200mm lens to capture my macro shots. Besides that, I prefer not to carry too much gear. I don't use a tripod because I need the freedom of movement while photographing a flower or insect.
I always play with the environment to capture the perfect shot. This way, I never have to carry extra things with me, and it challenges me to be more creative in capturing the best shots.
09. How do you use your Hantler, which one do you have, and why does it make your work easier?
I personally use the camera wrist strap. It is lightweight yet incredibly sturdy! Since I don't use a tripod and need the freedom to move, this wrist strap is perfect for keeping my camera safe while on the go. Plus, it looks super stylish!
10. What would you tell yourself when you first started, with the knowledge and experience you have now?
Practice a lot and keep challenging yourself! When you come across something on Instagram or the internet, instead of asking right away, try to figure out how it was made and then experiment on your own. This will spark creativity, and often, you'll come up with even better ideas. And if something doesn't work out… definitely don't give up!